As I've said before, I love reading
books
about history and historical people. Here's a few ones I've read recently that were really great.
1)
The Long Song
by Andrea Levy is fiction, and set in Jamaica towards the end of slavery and British rule and just after it. A great picture of life in colonial times.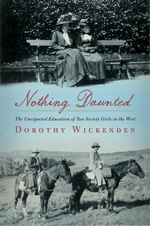 2)
Nothing Daunted: The Unexpected Education of Two Society Girls in the West
by Dorothy Wickenden. In the early 1900's the author's grandmother and her best friend went from New York to the frontier in Colorado to teach at a country school. I tore through this book. Frontier life came alive for me very strongly in this book, as well as the extraordinary choices these college educated women made - to have an adventure when most of their peers were getting married.
3)
To End All Wars: A Story of Loyalty and Rebellion, 1914-1918
by by Adam Hochschild. I am halfway through this book, but it's about WWI, and specifically about several British people who were dissenters at a time that not many dissented from popular opinion that war was just and right. So far, this is also a really interesting book, with info about the Boer War, the fight for women's suffrage in Britain, and the Christmas truce in the first year of the war.